Banners can be designed and produced in any size or shape; one-sided or two-sided. There are different types of materials including vinyl and fabrics. We can add a pole pockets or use grommets and rope for hanging banners. Perfect for sports teams, sales and special events.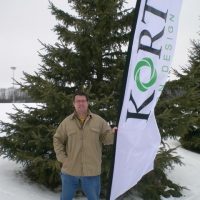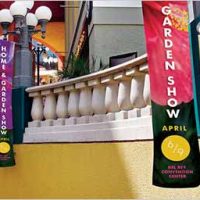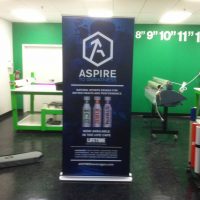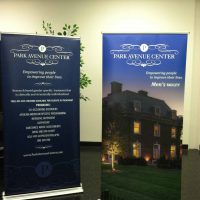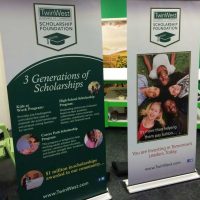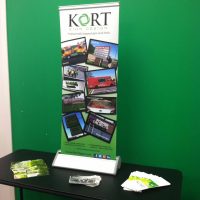 Windows, Walls & vehicles
Intended to be viewed from the outside are often mounted with a static cling technology that's temporary, or with and adhesive backed vinyl permanently affixed to the glass. These can be produced as opaque or transparent, either blocking or letting in the daylight.
Are made with a print material that is similar to wallpaper, and PVC-free, for those thinking 'green.' Bring a wall to life with your imagination. You can even design your own wallpaper.
can be used to partially or completely cover a vehicle with an advertisement – it's like a mobile billboard! Wraps are achieved with large vinyl sheets as "decals." The vinyl can be removed with relative ease, drastically reducing the cost to change out the graphics.
Menu boards are most often used on the sidewalk outside a restaurant to highlight the food and beverage specials, but they can also be digital displays inside your store. Menu boards work well in retail or office settings too, providing directions or highlighting events.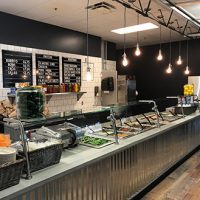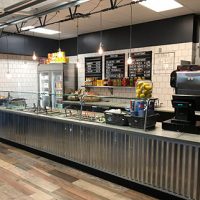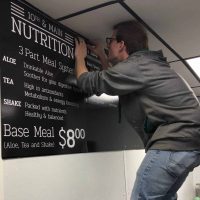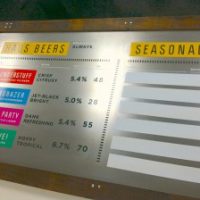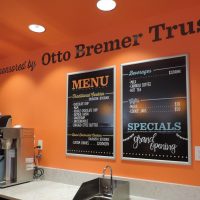 Windows, Walls, & vehicles
Awnings can be made out of different materials but typically are canvas or vinyl.  They can be customized with logos, text, symbols, patterns or even photography. Awnings allow you to enjoy the warmth and fresh air of an outdoor space without the harmful effects of excessive sunlight or the inconvenience of rain. You can install awnings over windows and doors.
Post and panel signs are usually unlit and are mounted on one or more visible posts to support the sign body.  These are often used to advertise 'space available' for leasing, and are temporary signs that can be re-used in different locations.
Video displays can be as simple as a self-running PowerPoint presentation or as complex as a fully interactive experience. These work well in offices, shopping malls and outdoor recreational areas. Message boards are often seen at churches and banks. 
Architectural and ADA/Braille Signs
Architectural and accessibility signs are also known as ADA signs or way-finding systems. It's important to understand the rules around materials, typography, contrast and color, not to mention position for compliance with the Americans with Disabilities Act. But that doesn't mean these  important elements of your building need to be boring – we can design a cohesive set of signage that matches your brand look and adds personality as well as functionality.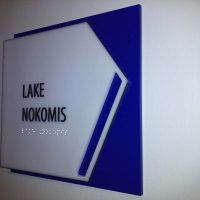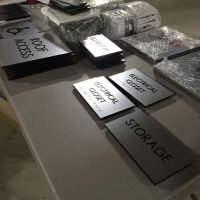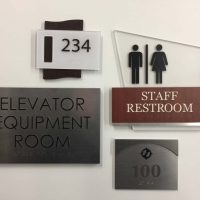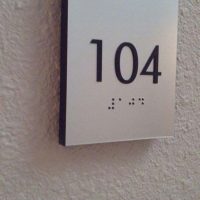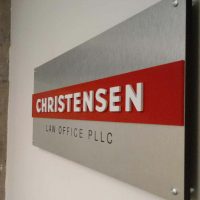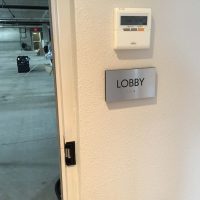 Tradeshow, Monument, & Indoor Signs
We can work with your existing hardware or create an entirely new tradeshow space for you. Options include but are not limited to pop-up displays, modular exhibits, literature holders, tabletop and free standing signage, video components, etc. Let's talk about renting vs. purchasing your hardware needs too.
We specialize in point-of-sale (POS) signage such as posters, table tents, standees, pole wraps, hanging banners, etc. There is a wide variety of materials to choose from, and signs can be printed one- or two-sided, die-cut, mounted on foam core, hung with ribbon or adhered with low-tack adhesives or static cling technology. Create a unique office or retail environment with customized graphics!
Pylon Signs are mounted on a single pole or multiple poles and are highly visible – up to 12 feet in height. Construction consists of an illuminated cabinet atop a single support pole. The support pole is not covered with any ornaments.